Classic Organic Iced Tea 3.23
Bold and flavorful black tea kissed with bergamot. Crisp and slightly citrusy, Classic evokes memories of iced tea with a slice of lemon.
Organic Pyramid Bag 2.75
Organic Loose Leaf in Glass Pot 4.25
Choose from our delicious selection of premium Kilogram teas.  Available hot or iced.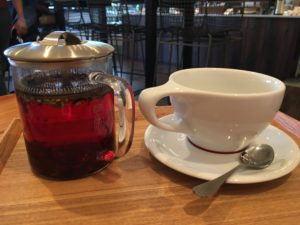 English Breakfast
Slightly spicy malt character gives way to sweet dried fruit flavors and delicate notes of spice.
Earl Grey
Our version of the traditional English favorite features real bergamot oil, matched with a full-bodied Yunnan black tea to produce an intense floral citrus flavor with a smooth, lingering finish.
Jasmine Green
A traditional blend of spring-picked green tea scented with fresh aromatic jasmine blossoms.
Blend 333
Blend of the finest rosehips, chamomile, and peppermint.  The sweet tart rosehips provide a perfect base for the warm honeyed flavors of the chamomile and the soothing character of our peppermint.
King Crimson
Hibiscus blend of rosehips, lemongrass, licorice root, and natural citrus flavors. Tart and fruity, the layered flavor matches the intensity of the bright red infusion for a great, naturally-caffeine free cup.
Turmeric Tonic
This spicy caffeine-free infusion draws its flavor from pungent turmeric, hot ginger, and combination of lemon and lime.
Gui Fei Oolong
Medium-oxidized, oolong featuring flavors of honey, plum, and orange blossom from the Nantou region of Taiwan.
Chai Latte 4.25 / 4.75
Taking a nod from the centuries-old Indian beverage, our own powerful blend of black tea and aromatic spices leaves a calming, soothing effect in each Chai Tea serving. (8 oz. / 12 oz.)
We have retail boxes of tea bags available for sale.